From Traditional Banks
To Fintech Startups
The banking and finance industry grapples with increasing customer expectations, technological advancements, regulatory requirements and the need to maintain trust and security in a digital first world.
These organisations need to adopt innovative technologies that streamline operations, enhance security measures and provide seamless digital experiences to customers.
CX Success Story
We've empowered banking and finance organisations to achieve exceptional results such as a 90% customer support quality score and a 88% digital support occupancy rate.
Read full story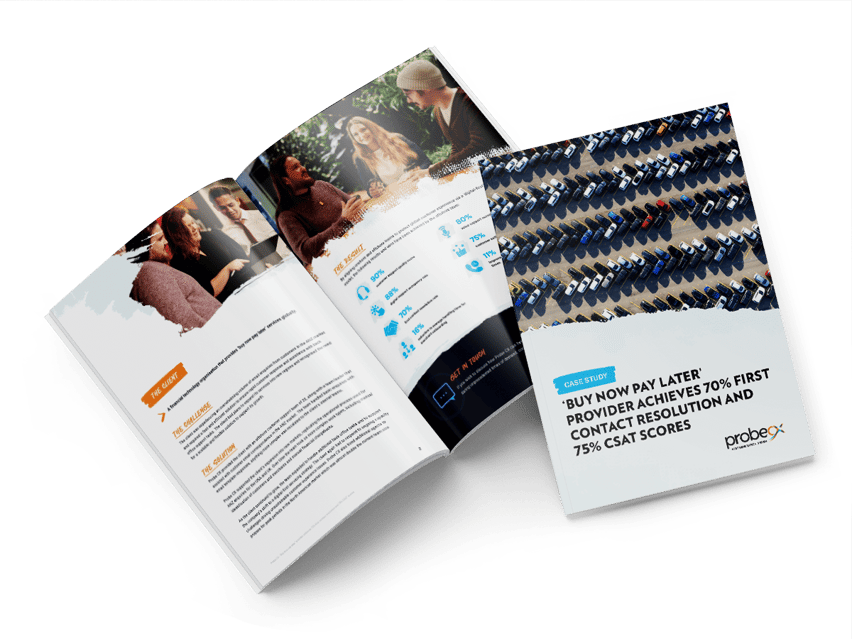 Featured Case Study
'Buy now pay later' provider achieves 70% first contact resolution and 75% CSAT scores.
Download Now
A financial technology organisation expanded its services into new regions by aligning onshore and offshore teams to protect global customer experience via a 'digital-first' service model.
Download Now
It's time to uphold trust and security
The banking and finance industry is at the crossroads of change. They need solutions that optimise credit risk and compliance management, elevate CX through intelligent IVR and concierge services, and support fintech growth via effective customer lifecycle management.

Collections excellence with digital capabilities
Banking institutions grapple with the ever-evolving landscape of credit risk and compliance. Regulatory changes, data security concerns and increasing customer expectations demand innovative solutions.
Creating a single view of the customer that enables financial institutions to make well-informed and well reasoned recommendations to at risk customers remains a significant challenge.
Our collections offering is designed to address these challenges effectively. Leveraging advanced digital capabilities, such as Debt Track, we streamline credit risk management processes. This helps banks adapt to changing regulations while ensuring customer data remains secure.

Intelligent IVR and concierge services
The banking and finance industry faces a pivotal challenge - delivering exceptional customer experiences while minimising operational costs. Traditional customer service models can be expensive, impersonal and time-consuming.
The rising number of scams raises concerns, and customers seek assurance for their safety regarding identity and finances. In such cases, the contact centre remains their primary point of contact.
Our intelligent IVR and concierge services are tailor-made to address this challenge. By automating routine enquiries and offering personalised assistance, we help banks and financial institutions provide seamless, cost-effective and highly engaging customer experiences, setting a new industry standard.

Effective customer lifecycle management
Fintech companies are rewriting the rules of finance. However, rapid growth often brings operational challenges, especially in managing customer lifecycles. Maintaining compliance and scalability can be daunting.
We specialise in empowering fintech innovators to scale up seamlessly. Through effective customer lifecycle management, we ensure compliance, reduce friction and enable growth.

Specialist support for cybersecurity threats
In an era of increasing cyber threats, financial institutions must be prepared to protect their customers' sensitive data. When breaches occur, addressing customer concerns and restoring trust becomes paramount.
Our expertise extends to managing cybersecurity incidents effectively. We assist organisations in establishing specialist customer support tailored to such incidents.
Related Resources