Probe CX takes home leader award as CXM provider in the 2022 Everest Group PEAK Matrix®
One of the world's leading BPO research firms, Everest Group®, has awarded Probe CX its highest honour for the second year in a row. Probe CX took home the star performer award as it was declared a leader in the customer experience management (CXM) sector against 20 other providers.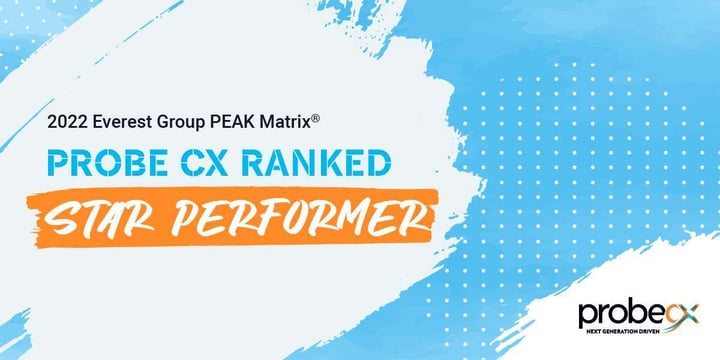 The Everest Group PEAK Matrix® for Customer Experience Management Service Provider in APAC 2022 provides a comprehensive picture of the CXM service providers market. It covers topics from vision and strategy, service focus and capabilities through to digital and technological solutions, domain investments and buyer feedback.
In the official report, Everest Group® analysed each provider's capabilities across their competitive landscape in the CXM service provider market and their key strengths and limitations.
"Probe CX is a leading CX service provider in ANZ, which offers customised end-to-end services to its clients through robust as-a-service models, including consulting-led engagements for the digital transformation of clients, making it a leader and a star performer on Everest Group's Customer Experience Management (CXM) in APAC – PEAK Matrix® Assessment 2022," said Rananjay Kumar, Practice Director, Everest Group.
"It offers flexible commercial constructs including outcome-based, output-based, and hybrid pricing models to drive cost efficiencies and has enhanced its transformative capabilities through several partnerships to provide a strong suite of technological solutions like omnichannel experience, advanced business intelligence & analytics, and conversational AI. This makes it adept at meeting the diverse requirements of clients in future."
Announced as one of four leading CXM service providers against a total pool of 20, Everest Group® said that Probe CX's strengths lie in its ability to offer customised end-to-end services to its clients across various industries through a network of more than 14,000 CXM associates.
In addition to the four leaders, Everest Group® named 13 other firms as 'major contenders' and a further three as 'aspirants'.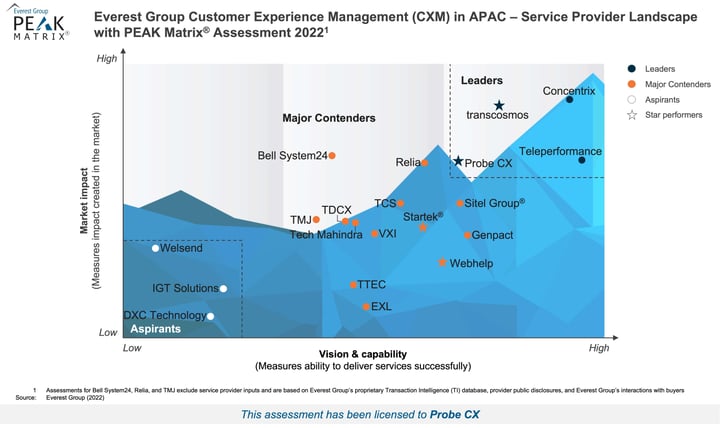 Probe CX Chief Executive Officer Andrew Hume said the company's continued ability to stand out from the crowd in such a competitive sector is a credit to it's people and partnerships.
"Our hardworking and passionate teams are the bread and butter of our success. Through them and the several partnerships we have with like-minded organisations, we continue to enhance our transformative capabilities," he said.
"Off the back of such incredible growth this past year, Probe CX continues to deliver on its promise to 'do it better' for our clients and their customers and to be recognised by such a leading research organisation like Everest Group® further fuels our drive."
Click here to download a copy of the full report.