Probe CX and Genesys partnership transforms CX and EX
Probe CX is constantly looking for ways to improve how their clients do business through human-led technology. The partnership with Genesys and their 'Genesys Cloud Predictive Routing' technology is a direct reflection of that commitment.
"Great CX is driven out of great employee experience", said Rohan Khanna, Chief Technology Officer here at Probe CX.

"We try to integrate end-to-end employee journeys, right from onboarding to learning, self-assessment and gamification. The future of BPO is in understanding the employee and client value proposition."
At the time, Probe CX wanted to adopt a workforce solution that amplified their resources, technology and processes and would make them more agile and service delivery-focused in their contact centres.
Work-from-home capabilities to meet evolving employee expectations, business continuity planning improvements in onboarding and service provisions and lowering average handling times (AHTs) were additional requirements of such solutions.
"Metrics like AHT are reflected in our contracts with customers on a risk and reward basis, so improving and managing performance is extremely critical to us," said Andrew Hume, Chief Executive Officer of Probe CX.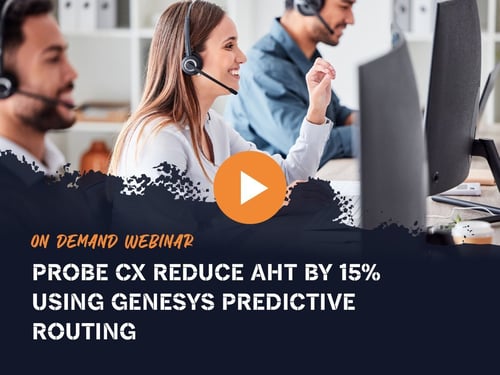 After some research, the Genesys Predictive Routing enhancement was identified as the key to this success. Probe CX proceeded with a beta test with Genesys adopting an A/B methodology to gain further insights and test the solution.
Andrew Hume reflected on the decision to partner with Genesys by stating "we wanted to match agents who sold better to certain types of customers — and Genesys Predictive Routing allows us to do that with the click of a button while improving a number of KPIs."
The quick and easy deployment functionalities of Genesys Cloud CX have enabled Probe CX since 2017 to have more flexibility in its carriers and eliminate the six to eight-week technology procurement cycle making it easier to scale IT capacity as required.
The results?
It takes less than 48 hours to deploy new clients
A 30% increase in agility
A 13% reduction in average handling times (AHT)
Response times are 16% faster
A 5% reduction in call transfers
Cost savings of around nine to 13 full-time employees in the tested centre.
The integration of the Genesys Cloud CX platform has allowed Probe CX to improve customer service and boost employee productivity. The introduction of artificial intelligence (AI)-powered routing matches their agents to customers that suit their 'contact centre style' best. This allows for better results across the board: from customer satisfaction through to employee engagement.
Rohan Khanna states that "enabling work-from-home was another big win thanks to this partnership and we are now even more strongly placed to advance our capabilities."
Probe CX continues to invest in external solutions that sharpen its competitive edge and the partnership with Genesys has allowed just that.