Probe CX awarded 3 leader positions in the 2022 ISG Provider Lens™ Quadrant Report
Probe CX was awarded, for the second year in a row, the coveted leader position in all three categories within the 2022 ISG Provider Lens™ Quadrant Report for contact centre customer experience services: digital operations, work-from-home services and social media CX services.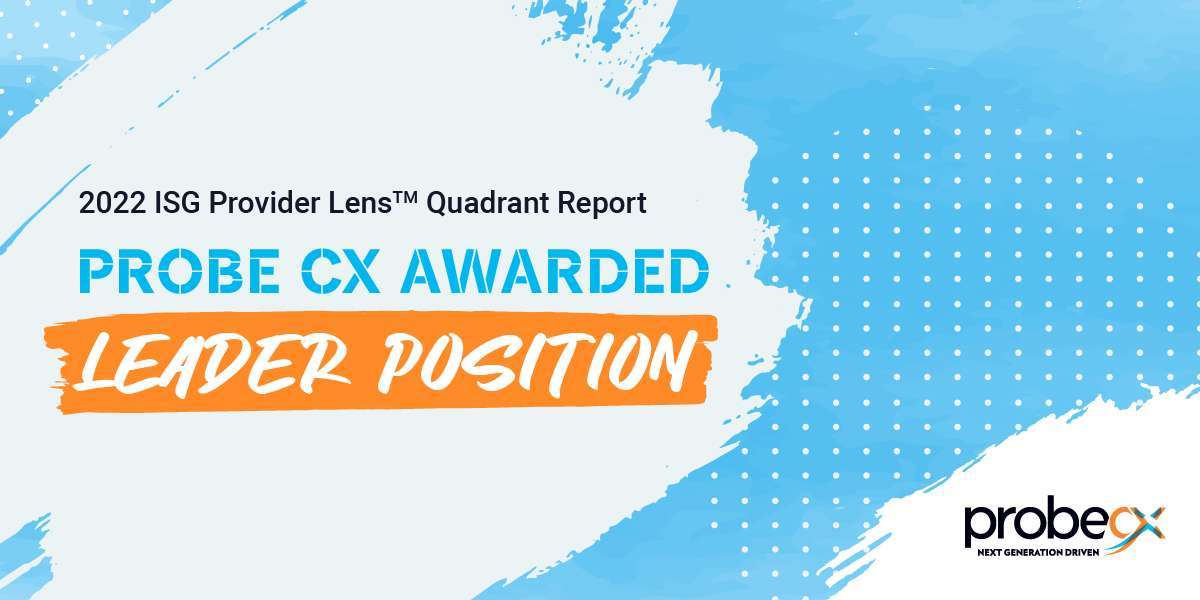 The 2022 ISG Provider Lens™ Quadrant Report provides highly respected insight into the strengths, competitive differentiators and unique selling points of leading service providers.
In their 2022 report, ISG Provider Lens™ tracked more than 1,200 providers across multiple service lines to determine the leaders within each against two axes: portfolio attractiveness and competitive strength. The majority of the positioning of providers is based on quantitative data and is comprised of survey data collected directly from providers, ISG internal or thorough secondary research.
ISG Provider Lens™ explained the reasoning behind announcing Probe CX as the leader across all three categories.
Digital operations
This quadrant assesses each provider's capabilities to offer end-to-end services such as technologies, consulting, implementation and managed services along with the proper shoring models, security and business continuity plans.
"Probe CX's strengths in operating an extensive CX solution portfolio, catering to a broad range of Australian enterprise clients through advanced AI functionality have all contributed to their placement as a leader within this quadrant," the ISG Provider Lens™ said.
Work from home services
This quadrant assesses a provider's capability to offer work-from-home services, including infrastructure, technologies and reliable cybersecurity measures.
Probe CX's Chief Executive Officer Andrew Hume accreditated the success within this area to the organisations' implementation of successful work-from-home models in 32 of their contact centres across five countries.
"In response to the pandemic, we deployed hybrid work-from-home and in-office solutions for our clients categorised as essential services," he said.
"Our advanced CX functionality centres around global scale and expertise coupled with local delivery and customisation capabilities. Our next-generation digital enablers allow us to provide end-to-end capabilities for delivering bespoke solutions, such as these hybrid remote working solutions, for each client."
Social media CX services
This quadrant assesses providers offering social media services with relevant technologies to provide seamless CX.
"Probe CX's Enterprise Shared Services cover social media and digital marketing. Their strong expertise in advanced analytics, RPA, chatbots and intelligent virtual agents, AI, natural language processing and biometric verification have strongly contributed to their leader position in this area", ISG Provider Lens™ said.
"Their strong customer service capabilities through intuitive self-service options mixed with intent-based routing for conversational AI assist their agents with real-time insights and suggestions."
As a leading global technology research and advisory firm, ISG Provider Lens™ uses its advisory experience and data-driven research to deliver the comparison of service providers. This year's report paid credit to Probe CX's broad solution portfolio and next-generation-driven value proposition.
Click here to download a copy of the full report.