Probe named Digital Operations Leader in respected ISG Quadrant Report
Probe CX has received top marks for its digital prowess in the latest ISG Provider Lens Quadrant Report, the highly respected insight into the strengths, competitive differentiators and unique selling points of leading service providers.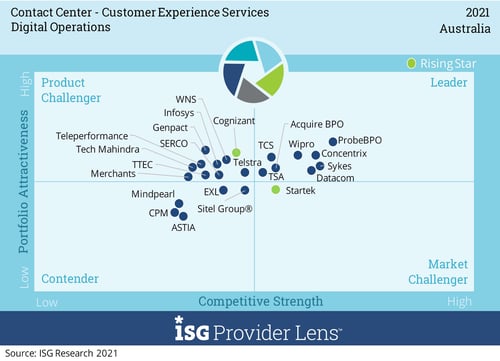 The company was awarded Digital Operations Leader status in the study, which provides valuable insights to enterprise buyers and defines 'Leaders' as service providers that offer the most appropriate solutions to meet the specific needs of clients.
Probe CX Chief Executive Officer Andrew Hume said the company was thrilled to have been named an industry leader in Digital Operations.
"As an independent study that recognises top service providers across the globe, it is a credit to everyone who works at Probe CX to have attained such recognition," he said.
"From our next-generation digital enablers that enhance client digital transformation and technology to our robust and reliable IT architecture and data security, we are committed to helping clients achieve their digital goals."
In a further boost for the company, Probe CX was declared a Leader in two other Quadrant Report categories – Social Media CX Services and Work From Services.
As a leading global technology research and advisory firm, ISG uses its advisory experience and data-driven research to deliver the comparison of service providers.
This year's report paid credit to Probe CX's broad solution portfolio and next-generation-driven value proposition, which centres around global scale and expertise coupled with local delivery and customisation for each client.
It also highlighted the company's extremely broad range of blue-chip national and global clients, which includes two of Australia's four large banks, several major Australian insurers and many buy-now-pay-later providers.
Probe CX is an award-winning customer experience organisation that designs and deploys solutions to bolster its clients' reputations, objectives, stakeholders and bottom lines.
With more than 16,500 staff across four countries, the company delivers exceptional customer experiences through its deep knowledge and capabilities in Contact Centre and Customer Management, CX Consulting, Intelligent Automation and Analytics.
Founded more than 40 years ago, Probe CX has strategically chosen sites across the Pacific, Asia and North America and is among the most awarded providers in the industry, including the honour of being named Frost & Sullivan's Contact Centre Outsourcing Service Provider of the Year for the past nine years (2012-2020).
To learn where Probe CX is ranked, alongside other industry providers, download the full report.