Probe CX earns Leader status for Social Media CX Services in respected ISG report
Probe CX has been recognised for its outstanding social media CX solutions in the latest ISG Provider Lens Quadrant Report, the highly respected insight into the strengths, competitive differentiators and unique selling points of leading service providers.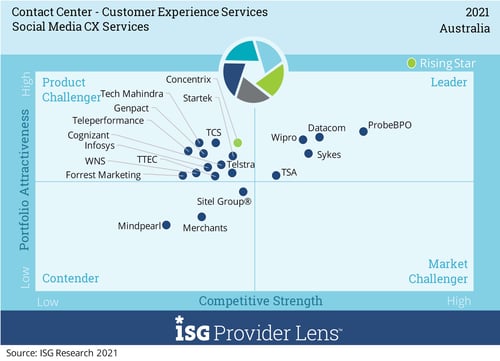 The company was named a Social Media CX Services Leader in the annual study, which provides valuable insights to enterprise buyers and defines 'Leaders' as service providers that offer the most appropriate solutions to meet the specific needs of clients.
Probe CX Chief Executive Officer Andrew Hume said the honour was due recognition for the company's investment in Social Media CX Services.
"As the largest CX provider in Australia, we have worked tirelessly to develop a comprehensive end-to-end suite of CX solutions including social media," he said.
"Being named an industry leader in such a respected and authoritative report is not only an honour but a credit to my innovative and highly passionate colleagues."
In a further boost for the company, Probe CX was declared a Leader in two other Quadrant Report categories – Digital Operations and Work From Home Services.
As a leading global technology research and advisory firm, ISG uses its advisory experience and data-driven research to deliver the annual comparison of service providers.
This year's report paid credit to Probe CX's suite of CX solutions, including social media, and strong digital capabilities before, during and after client contact.
"Before client contact, intent-based routing provides conversational AI and contact avoidance, while intelligent automation leverages virtual assistants as part of intuitive self-service around the customer during client contact," the report read.
Probe CX is an award-winning customer experience organisation that designs and deploys solutions to bolster its clients' reputations, objectives, stakeholders and bottom lines.
With more than 16,500 staff across four countries, the company delivers exceptional customer experiences through its deep knowledge and capabilities in Contact Centre and Customer Management, CX Consulting, Intelligent Automation and Analytics.
Founded more than 40 years ago, Probe CX has strategically chosen sites across the Pacific, Asia and North America and is among the most awarded providers in the industry, including the honour of being named Frost & Sullivan's Contact Centre Outsourcing Service Provider of the Year for the past nine years (2012-2020).
To learn where Probe CX is ranked, alongside other industry providers, download the full report.