Stunning COVID response sees Probe CX named Work From Home Leader in ISG Quadrant Report
Probe CX has been declared a Work From Home Services Leader in the latest ISG Provider Lens Quadrant Report for its industry-leading response to the COVID-19 global pandemic.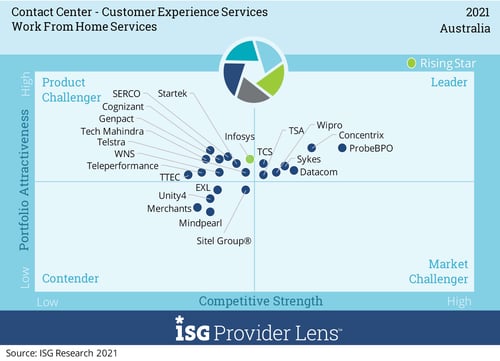 As one of Australia's largest work-from-home service providers, the company was hailed as a role model for other organisations in the highly respected study, which defines 'Leaders' as service providers that offer the most appropriate solutions to meet the specific needs of clients.
The report outlined how Probe CX had deployed work-from-home capabilities in 32 centres across five countries in response to the pandemic, with 90 per cent of the company's global workforce eligible to work from home and the remainder transitioned to a hybrid model.
"The company procured more than 5000 internet devices across five countries to supplement local internet delivery and invested in creating a virtual support platform including Facebook Workplaces for social connectivity and remote agent support hubs leveraging e-learning, online coaching, gamification and knowledge support, as well as wellness and health programs," the report read.
Probe CX Chief Executive Officer Andrew Hume said the company's elevation to Work From Home Services Leader status followed a long commitment to cloud-based technology.
"As industry leaders when it comes to embracing the best in technology, we already had several years' experience running a cloud-based business when the pandemic became a reality," he said.
"Such foresight meant we were able to migrate our organisation into a work-from-home footing almost overnight and focus on helping clients and other organisations cope with an unprecedented situation."
"While we were simply doing what we do, it is an honour for ISG to now applaud us for our efforts."
In a further boost for the company, Probe CX was declared a Leader in two other Quadrant Report categories – Digital Operations and Social Media CX Services.
The ISG Provider Lens Quadrant Report is an insight into the strengths, competitive differentiators and unique selling points of service providers, with the global technology research and advisory firm using its advisory experience and data-driven research to deliver the comparison.
This year's report paid credit to Probe CX's strong internal and external (client) work-from-home capabilities and advanced reporting and insight and analytics functionality, which includes a single data model to rapidly add attributes to existing reports and offer multipurpose business insights, automation, decision support and ETL optimisation.
Probe CX is an award-winning customer experience organisation that designs and deploys solutions to bolster its clients' reputations, objectives, stakeholders and bottom lines.
With more than 16,500 staff across four countries, the company delivers exceptional customer experiences through its deep knowledge and capabilities in Contact Centre and Customer Management, CX Consulting, Intelligent Automation and Analytics.
Founded more than 40 years ago, Probe CX has strategically chosen sites across the Pacific, Asia and North America and is among the most awarded providers in the industry, including the honour of being named Frost & Sullivan's Contact Centre Outsourcing Service Provider of the Year for the past nine years (2012-2020).
To learn where Probe CX is ranked, alongside other industry providers, download the full report.