Probe CX announced winner of 'Best Virtual Hiring Process' 2021
The Global BPO Talent Acquisition Awards celebrates outstanding talent acquisition teams in the business process outsourcing (BPO) industry. Probe CX was recognised for their achievements and excellence in improving the field of talent acquisition and inspiring innovative recruitment practices that 'break traditional recruitment processes'.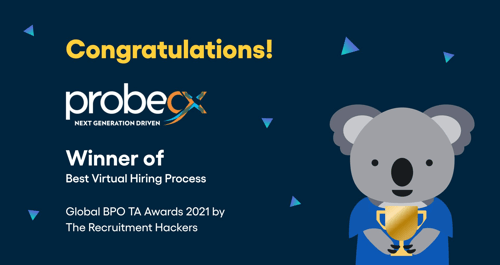 Probe CX won the category of "Best Virtual Hiring Process" at the Global BPO Talent Acquisition Awards.
This award was awarded to Probe CX as a result of their quick and efficient digital recruitment process that allows candidates to go through the entire application process from the safety of their own home.
Finalists in this category included Alorica, Concentrix, Onelink and Transcom. Thanks to Probe CX's diverse use of the Vervoe platform for recruitment, Probe CX was able to demonstrate advancement in digitising their hiring process, resulting in consistently high positive candidate sentiment and a significant reduction in recruitment times.
Probe CX Chief Executive Officer, Andrew Hume stated that the digital advancements in Probe CX's hiring process was necessary to manage the vast increase in hiring demand.
"From January 2021 to November 2021, over 9,050 people had commenced working with Probe CX in Australia alone, and to facilitate this growth, collaborating with Vervoe and focusing on a better digital candidate experience just made business sense."
Omer Molad, Vervoe's co-founder and Chief Executive Officer said "our team @ Vervoe was so pleased to hear that Probe CX was selected as the winner in the Best Virtual Hiring Process category. Probe CX has implemented a "zero touch" hiring process that takes 24 hours - down from 4 weeks - and has stopped collecting résumés altogether. By using technology to eliminate the menial screening tasks from their day-to-day jobs, recruiters are now able to pay more attention - not less - to candidates, and act on their feedback. It's a great example of how technology can make the hiring experience better for both candidates and recruiters."
In addition to this award, Probe CX was also a Finalist for the "Best Inclusion Initiative Award" which is awarded to the organisation who went out of their way to include often overlooked segments of the population. This considers the implementation of technology to increase accessibility for a successful inclusion hiring initiative.
Probe CX went up against four finalists, handpicked globally, to compete for this award, including Sitel, Task Us and Surgo.
Probe CX is an award-winning customer experience organisation that designs and deploys solutions to bolster its clients' reputations, objectives, stakeholders and bottom lines.
With more than 18,000 staff across four countries, the company delivers exceptional customer experiences through its deep knowledge and capabilities in Contact Centre and Customer Management, CX Consulting, Intelligent Automation and Analytics.
Founded more than 40 years ago, Probe CX has strategically chosen sites across Australia, New Zealand, the Philippines, the United States and India and is among the most awarded providers in the industry, and the accolade of having the "Best Virtual Hiring Process" is another well-deserved award added to the list.
People are at the heart of what Probe CX does - there is no limit to what you can achieve.