Leading research firm heralds Probe CX as Customer Experience Management Leader
One of the world's leading BPO research firms has awarded Probe CX its highest honour, declaring it a 'Leader' in the Customer Experience Management (CXM) sector.
The company was one of only four CXM service providers in APAC to be ranked as a Leader on the Everest Group PEAK Matrix 2021, a framework that assesses the market impact, vision and capability of service providers.
In its official Market Report, Everest Group said Leaders such as Probe CX had successfully adapted to challenges posed by the COVID-19 pandemic and managed to consistently maintain the quality of its CXM services.
"They also have better client satisfaction scores due to greater domain expertise, access to a skilled talent pool, proactiveness in operations and better relationship management in their engagements," the company said.
In addition to the four Leaders, Everest Group named nine firms as 'Major Contenders' and a further three as 'Aspirants'.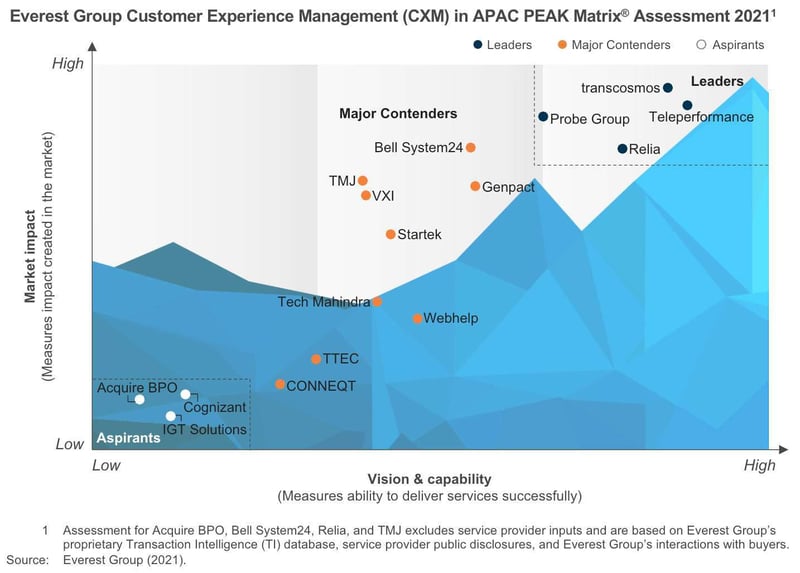 Probe CX Chief Executive Andrew Hume said the company's ability to "stand out from the crowd" in such a competitive sector was a credit to his colleagues.
"Our hard-working teams pride themselves on going the extra mile for our clients and it is reassuring to see a respected organisation such as Everest Group recognise this commitment," he said.
"As well as boasting one of the largest client bases in APAC, the PEAK Matrix recognised Probe CX has developed more sophisticated digital solutions than our peers and been more successful in driving innovative pricing structures, agent engagement, talent management and process innovation.
"Along with experiencing incredible growth on the back of an ambitious acquisition strategy, Probe CX has received many honours and awards in recent years and being named a Customer Experience Management Leader in APAC is among the most rewarding."
Based on factors such as interactions with leading CXM service providers, client reference checks and ongoing market analysis, Everest Group's PEAK Matrix Assessment provides a comprehensive picture of each service provider's market success, vision and strategy, service focus and capabilities, digital and technological solutions, domain investments and buyer feedback.
With more than 18,000 staff across four countries, Probe CX is a leading customer experience and digital transformation organisation that specialises in process simplification, user experience design, customer journey mapping, workforce optimisation, data analytics, customer sentiment analysis, digital deployment and automation.